AROUND TOWN: Savage to challenge Boyce; Banks gets opposition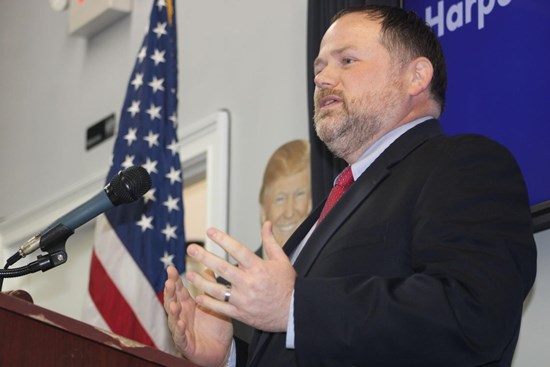 Matt Harper
December 10, 2019
By Ross Williams
SCHOOL DAZE: At the same meeting Savage announced for chairman, IT project manager Matt Harper threw his hat in the ring for the Post 5 Cobb school board seat held by David Banks. Harper lives in east Cobb with his wife and their two daughters, who are in third and sixth grade in the Cobb School District. He works IT for Cobb-based Advanced Open Systems.
He told the crowd he grew up going to Cobb schools, and his mother was a Cobb County teacher. His credentials include serving on the Murdock Elementary school council, where he was also a science lab instructor for three years.
"During that time, I used the school garden to really make hands-on science a priority. The Cobb County master gardeners recognized that effort and invited Murdock to be on the Cobb County garden tour in 2018," he said.
Harper said he supports "responsible use" of the 1% Special Purpose Local Option Sales Tax for education and hopes to help usher in a time of continued growth in the county.
"Cobb is great, and people know it. The secret's out," he said. "There is nothing that, in my mindset, from a planning background, (suggests) that people are going to leave this area. There's only going to be an increase (in population) in this area. That means there's going to be an increase in the school population, so every decision the school board makes, I believe needs to be with that focus in mind, that the school population is going to increase."
The seven-member school board had a quorum at the breakfast, with five current members in the audience listening to a keynote speech delivered by Superintendent Chris Ragsdale. (Only Jaha Howard and David Morgan were absent.)
Banks, who has given no indication he plans to step down, was among that number, though he did not speak.
The full text of this article can be found on www.mdjonline.com.